Maestro Quick Start is designed to assist Drupal shops and organizations that want to develop their own business workflow applications. While it may be easy to understand the basics of the Maestro Module, there are a number of aspects that come into play to successfully develop and deploy an effective work automation project.
Nextide has over 15 years of experience with intelligent work automation. During this time we have successfully built and deployed many applications and assisted many organizations that wanted to use the module on their own. From all of those experiences, we have taken the most common and useful services and productized them into the Quick Start program. The Quick Start program is a packaged solution intended to save you time and money.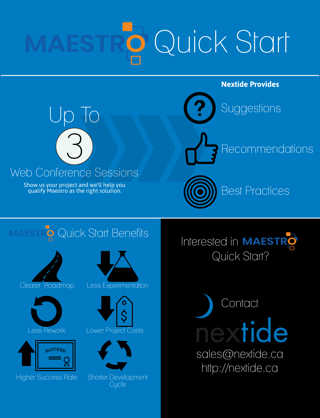 What is included:
Three x 1 hour web conference sessions to provide:

Project qualification and Training
Consulting and best practices
Project review

Suggestions, recommendations, and best practices
Shared code and work examples
Benefits:
Project validation - is Maestro a good fit for your work automation project?
Clearer roadmap for the project
Less experimentation
Less rework
Lower overall project costs
Higher success rate
Shorter development cycle
Cost:

To illustrate the 'state of the possible', Nextide has created the Maestro Insurance demo site. Additional information can also be found in the many Maestro blog articles. If this sounds interesting, then contact us to find out how Quick Start can help you.